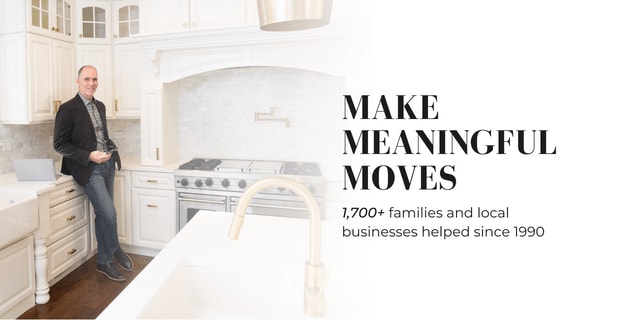 Chicago's Western Suburbs are a great place to live and work, which is why Mike McCurry chose to call it home. It's here that Mike met and married his wife, Amy. It's here that they chose to raise their four children. Mike has not only lived in the Hinsdale/Clarendon Hills community since 1990, but he has also helped others do the same.

For 33 years, Mike has helped 1,700+ families and local businesses make meaningful moves as a full-time Realtor®. He consistently ranks in the top 1% of Realtors® and is proud that 74% of his clients are repeat clients or referrals from his past clients.

Real Relationships
Mike believes that people are at the heart of every real estate transaction. That's why his approach to buying and selling always starts with developing a real relationship with his clients. He doesn't just want to know the specifics of the home you have or want to have – he wants to know about you, your family, and what's important to you.

Sellers
The decision to sell real estate is a big one. It pays to have expertise on your side, coaching you through every step of the way. For decades, Mike has been expertly negotiating and closing transactions all while creating an enjoyable, customized experience for his clients.

He has spent many years perfecting his sales systems, which includes marketing and design aspects, and has an instinctive aptitude for negotiation.

If you are interested in selling your current home, Mike's home selling expertise includes super luxury residences, to commercial properties, to affordable homes in Chicago's western suburbs.
Local Areas of Expertise: Oak Brook, Hinsdale, Clarendon Hills, Downers Grove, Burr Ridge, Elmhurst, La Grange, Western Springs, Westmont, and Willowbrook.

Buyers
Because the local markets are always changing and there are countless factors that impact a home purchase…everything truly must go just right. And because of that fact, Mike has become an expert in helping buyers understand the local market, navigate the process efficiently and effectively, and negotiate their way into the perfect property for them.

Property Investors + Tenants
As a rental property owner and investor himself, Mike is passionate about coaching owners to maximize their potential profits. His thorough understanding of the market is an asset to investors and brings a unique focus on the rental industry to the table. Tenants also rely on Mike's expertise to help them find their next home.

Giving Back
Mike is also committed to giving back. He proudly supports local housing-related charities by contributing a portion of his commission from every sale to Compass Cares. You can learn more about this initiative at
compass.com/compass-cares/
.