My mouth was on fire, but it was the kind of fire I love: flavorful heat that ignites your palate and makes you feel alive! Searching frantically for something to douse the flames, our waitress handed me the next beer sampling: a delicious, hoppy IPA from Lagunitas Brewery in Chicago. Ahhh … back to normal again!
Glancing across the room, I saw Krista Talley offer a mischievous grin. Perhaps it was the extra heat she'd put into the spicy pork wing I'd just tried. Or maybe it was the sheer power she held over the 45 hungry men in the room, each of whom had come for an unforgettable food and beer pairing. I couldn't be sure. But either way, I knew the mischief was tempered with the joy of seeing her guests enjoy her creation. This is how Krista works. She is an artist, and food is her canvas.
Krista is the owner of Talley's Kitchen and Bar in downtown Clarendon Hills. The popular hotspot at the intersection of South Prospect and Park avenues is named for and dedicated to her father, the late Frank Talley. And rightly so; much of her culinary drive and inspiration stem from, as her website reads, "the aromas and laughter coming from (her) parents' kitchen."
I got to sit down with Krista and her daughter, Mia, in my office recently. She told me about her education at Arizona Culinary Institute in Scottsdale and about growing up in a family so passionate about food. Cooking is a family tradition that remains very much alive today; many of the specials and wines that she serves at Talley's have origins deeply rooted in Talley family history.
I can still remember the first time I tried one of her signature Spicy Pork Wings — which, as you may have guessed, are more pork than wing. These delectable hunks of meat are pork shanks, or parts of the back legs of the pig, and they're served as spicy as patrons can handle them (or hotter). They're very large, and when she personally handed me one on the sidewalk outside her restaurant during Daisy Days, I was hooked.
I've been to her establishment many times since then, and not just as one of 45 manly beer lovers. My wife, Amy, and I had a nice dinner there with another local couple awhile back. It felt like we were on Cheers, where everybody knows your name! People were walking from table to table, visiting each other and enjoying a wonderful culinary community.
This is a regular occurrence at Talley's. It's not a huge restaurant, after all — with just 18 tables, it seats only 77 guests (albeit very comfortably). The decor is something you might find in a trendy restaurant in the city, and like its urban counterparts, Talley's sometimes has a wait. Locals love the place because the food and flavors are fresh and there's always a chance to connect with friends old or new.
These aren't the only reasons that Talley's is so successful; Krista herself plays a role as well. She loves walking around the dining room to greet her guests with a smile, and her passion for her work shines through in the way she carries herself and treats everyone she meets.
If you visit Talley's and Krista isn't there, chances are she's "doing her homework" somewhere else. A true student of the trade, she frequents Aguamiel, Standard Market Grill and other local establishments often. Is she networking with the owners or searching for fresh ideas? Personally, I'd wager that she simply she loves the restaurant business and wants to continue learning and growing whenever she can. She truly can't get enough.
It's a familiar feeling; her diners can't get enough, either. From the seared tuna to the bacon-bleu burger; from the creole shrimp (grandma Talley's recipe) to the panko-crusted chicken; and from the "new fashioned" cocktail to 45 orders of pork wings (all served hot at the same time); there are only two predictable things about Talley's: whatever you order will inevitably be delicious, and you're sure to come back for more.
Mike is a
Clarendon Hills
resident; husband; Indian Princes; Indian Guide Dad; a Coach; an "old" football player and a real estate broker. Mike's columns are usually crafted about the buzz in and around Clarendon Hills. It sometimes has a spin on real estate or cultural information, highlight a new business or announce school happenings. He might include a "get-to-know" about some of our interesting Clarendon Hills residents and even a little about
Clarendon Hills history
. Whatever it is, it is sure to be about the "Talk of the Town".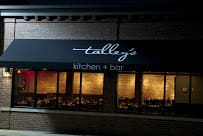 Talley's Kitchen + Bar