From Mike McCurry's "Talk of the Town" column in The Clarendon Courier, November 10, 2016
A Change of Seasons
The Chicago brick bungalow had seen better days and was evident from the dilapidated state that it must have been vacant for years. Grass and scrub trees had grown wildly over the property and into the structure as if nature was taking it back. After years of neglect, only a single gutter remained, and it was completely full of leaves.
With the loss of water control, these midwest seasons were in charge now, deciding on a newer, more natural topography, while destroying the stability of the soil that was barely holding up this home. A view from the street makes it look like a distant relative to the Leaning Tower of Pisa. Unlike the famous Italian medieval tourist destination, this property had shifted to the breaking point, and the front porch was indeed detaching from the house.
Sure, it's an extreme example of what can go wrong with a home, if not properly maintained, but it also gives me a platform to share some practical advice for preparing for what is ahead – the winter! Here are my top five "must-dos" for the changing of seasons.
Trim your trees and shrubbery now. When we bought our old house, the arborvitaes were like massive trees growing over the roof. Don't let this happen to your home! Cutting them away will keep rodents from climbing onto your roof, into your attic, and making a mess of everything. Having well-kept plantings also keeps your foundation from being compromised by the roots pushing into your foundation and causing cracks


Have the roof checked for cracked, missing, or pulled away flashing or caulk. Flashing is a fancy word for a thin piece of impervious material that keeps water from entering through a joint, valley or edge. Use binoculars or have a contractor examine your roof for cracked or missing caulk, so melting snow can't get into the edges, where the roof meets the chimneys or vents areas.


Have the gutters and downspouts been cleaned? It happens every winter when you least expect it – perfect conditions for ice-damming. The warm afternoon sun melts just enough of that ten-inch snow pile sitting ever-so-pretty on your roof. The evening temperature reaches arctic conditions, and that water under the snow starts to climb up, freezing under your shingles. After a few more ideal days of sun, it finds its way into your home and through your drywall. This is when the roofers come out of hibernation and are helping homeowners all over town shovel snow from the roofs.


Most importantly, have your sump pumps changed or serviced. Changing them every few years serves as good insurance for what could be a disaster. You can ask a plumber for advice, but the best ones will say to be safe and replace. Make sure you have the underground drain lines in your yard cleaned as well. When your sump pump pushes that first big melt out, it will pour back into your home if roots have been growing all summer long and are blocking it. While you are at it, go ahead and clean the leaves and debris out of the window wells. These are a vital part of your sump and drainage system.


Lastly, have the generator serviced, disconnect hoses from spigots, caulk around windows and doors, and fill the holes around gas, the waterline, and furnace PVC discharge so you can keep the rodents out. Go ahead and put some bait in areas where they come in, especially in the garage.
Just keep in mind that the earth wants to cause havoc with your home, so keep watch and take care of your investment.
The story about the broken-down bungalow was really true. The plaster walls inside were falling from their lath, and the floors were crooked and slanted. I recently drove by, and it looked as though someone had moved in. The grass was cut and the scrub was gone. It was still leaning, however, and I wondered for a moment, would it make a good tourist destination?
Mike is a
Clarendon Hills
resident; husband; Indian Princess; Indian Guide Dad; a Coach; an "old" football player and a real estate broker. Mike's columns are usually crafted about the buzz in and around the area. It sometimes has a spin on real estate or cultural information, highlights a new business, or announces school happenings. He might include a "get-to-know" about some of our interesting residents and even a little about
history
. Whatever it is, it is sure to be about the "Talk of the Town".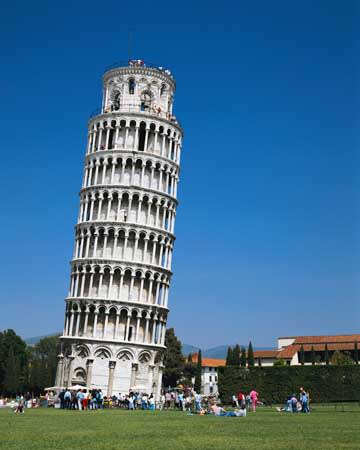 The exterior of the Leaning Tower of Pisa