On June 15 the Fed raised its benchmark interest rate by 3/4 of a percentage point, making it the biggest raise since 1994. You could hear a pin drop for the next 10 days as the real estate market was deafeningly quiet. It was as if buyers had been walking through a minefield and suddenly everyone froze – afraid to take another step. When the period of pause ended, we learned that no mines were in fact detonated…and we got back down to business.
During this pause, for the first time in over two years, we saw some price reductions and also have witnessed sellers being more reasonable with their initial offering price. Sellers are not so quick to kick buyers to the curb, especially if all of their demands don't get met.
Earlier this year we were nationally shy almost 6,000,000 housing units of buyer demand. This micro pause did not help the situation. Like many industries when the supply brakes are pumped, we see the slingshot effect and the market is catapulted forward. We will see over the coming months if this had the same effect on the real estate market.
As of July 27, the Fed raised the rate another 3/4 of a percentage point. Now, we're left wondering if we will see a similar pause again.
What's happening nationally?
According to data just released by the National Association of Realtors®, "Existing-home sales fell in June 2022, with declines in three out of four major U.S. regions month-over-month and down in all regions year-over-year."
Completed transactions that include single-family homes, townhomes, condominiums and co-ops, dipped 5.4% from May to a seasonally adjusted annual rate of 5.12 million in June. Year-over-year, sales fell 14.2% (5.97 million in June 2021).
The median home sale price has also climbed 13.4% from where it was ($416,000) one year ago. This is a new record high. Rising mortgage rates and home prices have presented obstacles nationwide for buyers. Not to mention time-on-market is at an all-time-low, too, putting additional stress on buyers. Eighty-eight percent of homes sold in June 2022 were on the market for less than a month. (NAR Statistics, released July 20, 2022)
What's happening locally?
Nationally we are outpacing 2021 homes for sale by almost 20% (caught up to 2021 in mid-May) but we are still behind locally. The Chicagoland inventory market overall is down 9.5% June 2022 versus June 2021 and we're down 58% in Hinsdale and 30% in Clarendon Hills.
Locally, there are 48 homes available in Clarendon Hills. Of those, 18 are under contract. There are 46 homes currently under contract in Hinsdale. With 121 homes on the market, that leaves just 75 Hinsdale homes available for sale.
In terms of home prices, Clarendon Hills' rolling 12 months data for single family homes indicates that the average sales price is still up 5% year-over-year at $768,000. In Hinsdale, the average sales price is still up 2.5% year-over-year at $1,233,797.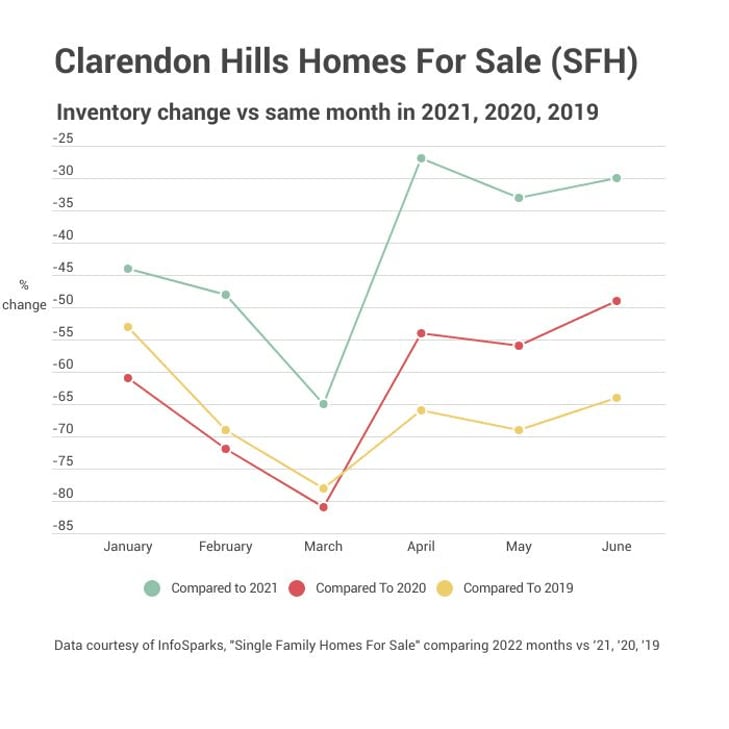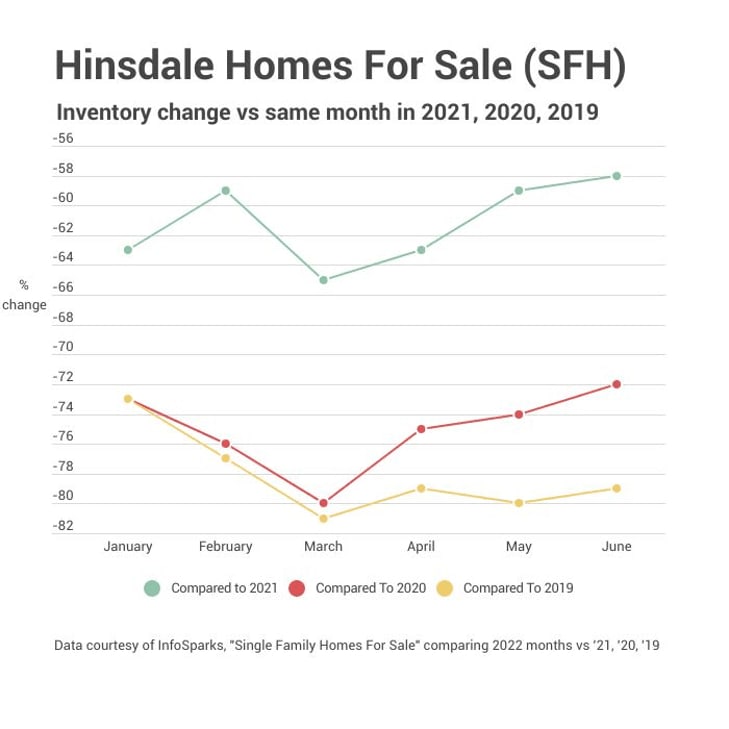 What does this mean for you?
If a move is in your family's plan, we encourage you to reach out to a local real estate expert for a personalized consultation. With the right approach, this can still be a very opportune time to buy and sell!