Mike McCurry sat down with the new owner of 1 Walker Avenue in downtown Clarendon Hills, Dr. Raj Bhorade, to discuss the restaurant and the new hope he's bringing to our town.
Dr. Bhorade may be a newcomer to Clarendon Hills' business district, but he's no stranger to running restaurants or buying real estate.
Perhaps you'll recognize Dr. Bhorade's name from the Bhorade Cancer Center at Good Samaritan Hospital. His generosity is only trumped by his humble personality. Dr. Bhorade is a giver at heart. Though incredibly busy, as a practicing interventional radiologist and a restauranteur gearing up to open Walker's American Brasserie, Dr. Bhorade was generous with his time and agree to speak with me about his newest dining endeavor and what drew him to Clarendon Hills.
Dr. Bhorade has made an investment in our village. When he could have put a toe into the local waters and rented a commercial space for a restaurant, he instead jumped in headfirst and purchased the building at 1 Walker Avenue. He purchased not just a space for his restaurant but also took on the responsibility of other units in the building which will be home to other local businesses. He sees the potential in our great village and the goodness in our great community—and he is committed to helping propel our business district forward.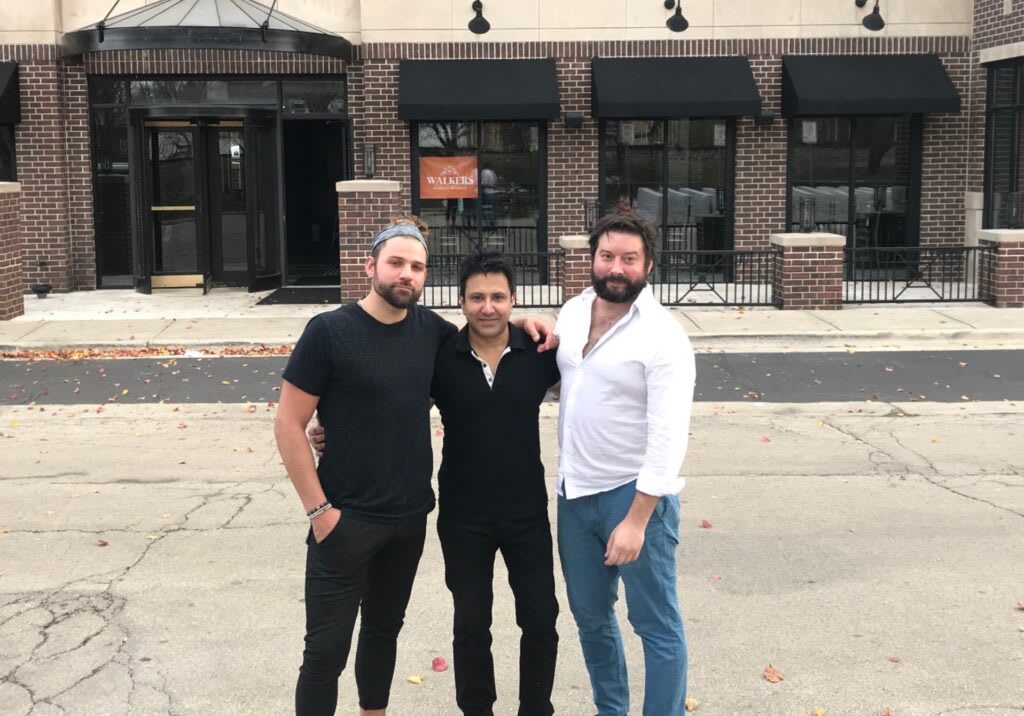 When I spoke with Dr. Bhorade and his dear friends and management team (James Kupka – Operating Manager and Jake Dray – Manager of Private Events), I was pleasantly surprised at how they plan to approach joining our community. This place is for us.
For him, Walkers isn't about money. The vision Dr. Bhorade shares with his friends James and Jake is to create a fun, safe place to hang out with interesting people from the local community.
Formerly the space was Scapa's Italian Kitchen (2012-2016), then it was Thipi Thai (2018-2019). With new ownership, we're now anticipating the opening of Walkers, an American eatery…perhaps even in 2020!
The new establishment will feature American fare, like burgers and sandwiches, alongside an assortment of beverages including draft beers. There will also be pizzas, skewer-based proteins and vegetables and a selection of gluten-free and plant-based proteins as well.
There will be billiard tables that can be seen from the bar. A family could be comfortable stopping by after mom and dad's workday to play a game of pool together while sharing small plates.
For the local commuters, coffee, juice, and beignets will be available from a quick-pick-up area at the front of the restaurant each morning to accommodate commuters' schedules.
I Repeat a Little Louder This Time…this Place Is for Us!
Because Clarendon Hills is slightly off the beaten path, we often lose out on business through traffic. Our small community of wonderful small businesses has relied heavily on the patronage and loyalty of our residents. We often enjoy an influx of "destination shoppers & diners" who see the value in the unique offerings of our businesses (
English Garden Flower Shop
!
I Want Candy
!
Vintage Charm
!
Zabler Design Jewelers
!
The Village Gourmet
! & more!) – but even so, the locals are the ones bringing the support that keeps our village thriving.
And it is my honest assessment that the people behind Walkers acknowledge that.
With every decision they make in creating the ultimate experience for their patrons, the residents are at the center of the thought process. From the menu to the dining options, to the location…everything about Walkers is designed to make it a local, neighborhood destination.
The hope is that Walkers will be a place for you to walk over to after your commute on the Metra to pick up dinner for your family before heading home. It aims to be a neighborhood bar where you can gather with neighbors and friends to celebrate birthdays, anniversaries, promotions, and the like. Graduation parties in the family-friendly party room, watching the super bowl among neighbors in the bar, bringing out-of-town guests to your "favorite local pub"…Walkers wants to be all of that and more.
I'm looking forward to taking my wife, Amy, and our four kids for a burger and some billiards when they open! Hope to see each and every one of you there.